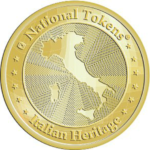 Pope Francis is the spiritual leader to more than one-sixth of the world's population, 1.3 billion people.
He has made it his personal mission to transform the longstanding conservative image of the Catholic Church.
In November 2016 he gave priests the power to forgive women who undergo abortions.
He has continued to push for climate change reform, better treatment of refugees and greater attention to persecution of religious minorities.
Still, Francis has kept some traditional aspects of the Church in place, including a ban on female clergy members.
Features
Coin Alloy Name:

Nordic Gold

Coin Alloy Color:

old gold

Coin Diameter:

31,00

Coin Thickness:

2,25

Coin Edge:

serrated, fine

City:

ROME

Country:

Italy

Available:

yes, not through coin dispenser

Location:

ROME, Italy